Metro Online Broadcast : 11 August 2015
TAKE the first star on the right, and straight on till morning! And there you will find Neverland, where 49 Sri Kuala Lumpur Primary School children aged 10 to 12 put on their best show of Peter Pan.
Enthusiastically singing, dancing and acting their way through the magical tale, the stage adaptation involved months of planning and practice for the cast and crew.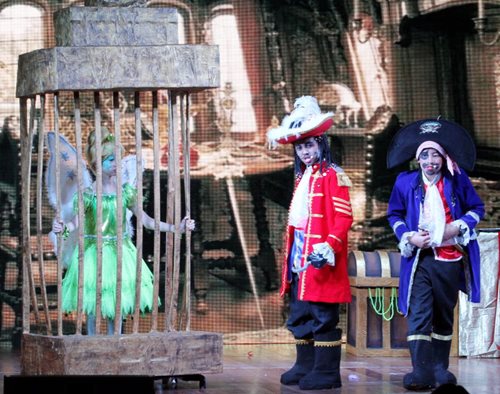 Tinkerbell is captured by Captain Hook and mr Smee
Taking the role of Captain Hook very seriously, Mustaqim Mubashir, 10, practiced frequently on his own to perfect his character.
"I watched the movie six times to learn how to play this role. I have to be cruel and wicked and funny all at the same time," he said.
Cast as the mischievous Boy That Never Grows Up, Fariz Imtiyaaz Cross, 10, said he was honoured to play Peter Pan.
"He never grows up! I really like that, I don't want to grow up either. I can relate to his character too. Peter Pan is boastful and sometimes conceited, I'm like that too," he said cheekily.
For Keisya Rae Dasiuk, 11, playing the role of Wendy was a fair challenge.
"Wendy is a very joyful character and I am a lot like her. At first, I found it quite difficult to perform on stage because I was afraid others would make fun of me, but then I decided not to pay attention and did my best," she said.
As jingling bells followed her quiet fairy strides, petite and vivacious Caitlyn Tan Wan Ching, 11, was a perfect match for the role of Tinkerbell.
"I only have 10 lines in total. I love being the silent character because I don't have to memorise a lot of lines. Usually, I just use bells, jingles and my facial expressions just like Tinkerbell, " she said.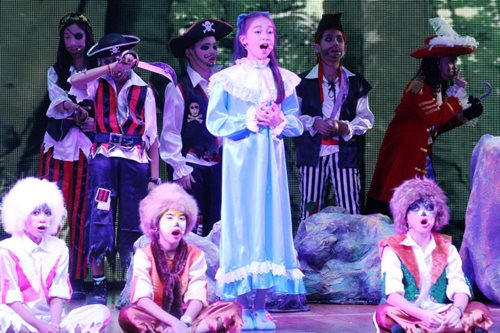 Wendy telling stories about what a mother is to the Lost Boys while pirates lurk in the background
Following auditions in January this year, play director and drama teacher Jasinta Selvam, 32, said February onwards, practices were three times a week.
"The greatest challenge is disciplining them and getting them to focused to work together as a team. The children come from all walks of life and interests, some have the interest but lack the skills and other have stage fright."
"But drama remains the best platform in helping children build self confidence," she said.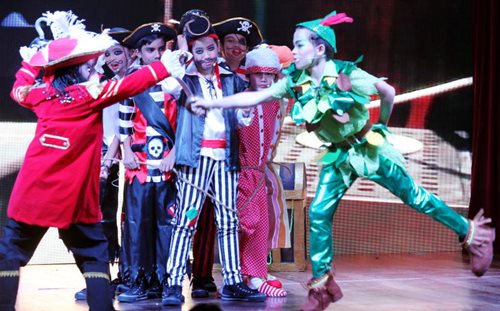 Peter Pan engages in a climactic final duel with Captain Hook
The annual event was also a charity geared one. All proceeds of its ticket sales was channeled to three charitable organisations namely JUST Children Sdn Bhd, Beacon Life Training Centre and Siddharthan Care Centre.
Three individual donations also went to Rayyan Seif Rizqin Mohd Shukor, who suffers from a life threatening condition known as HLH, Norlela Hakim, wife of a former Sri KL school guard who is widowed and a single mother of two children and Thoong Jun Wai, from Kulai, Johor, paralysed waist down following an accident.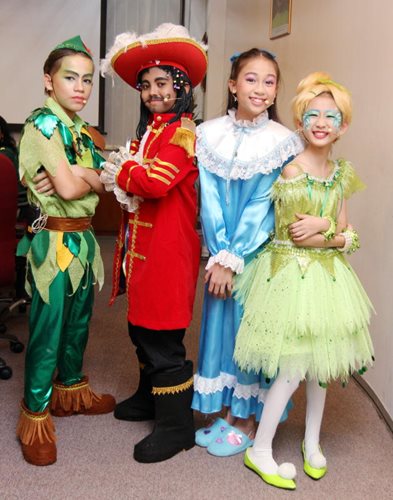 The leading roles, Peter Pan, Captain Hook, Wendy and Tinkerbell
Sri Kuala Lumpur Primary School principal Dr Tan Khun said he hoped the RM50,000 worth production would set a benchmark of quality school drama productions.
"This year marks our 10th school play and we are setting a new standard. For the first time this year, we are using LED screens as a backdrop. Initially, our teachers would spend many weeks building sets, painting backdrops and creating props."
"This is also the third year we have got the kids under 12 to sing and I am very impressed but their performance. It is with the training of our dedicated team choir, music and drama teachers that we are able to make this happen," he said, beaming with pride.