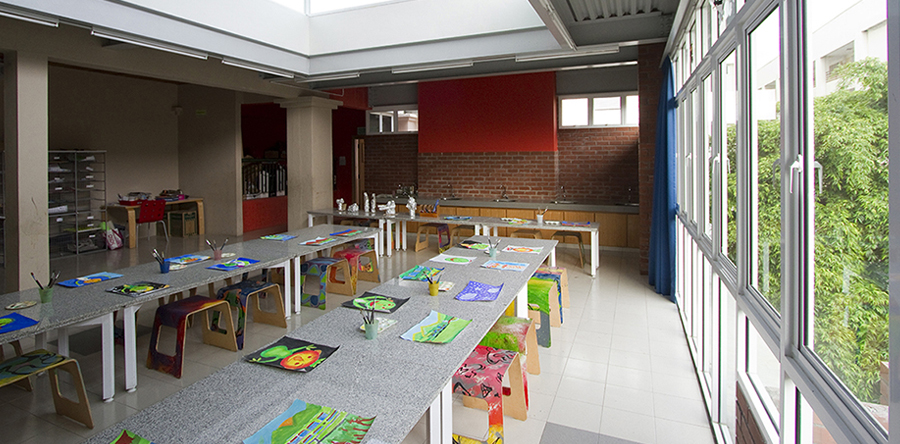 In accordance with our commitment to provide a balanced, all round education, the School has invested heavily in providing students and teachers with world class academic and sporting facilities.
A 25-meter swimming pool, complete with separate changing facilities and showers for boys and girls, is always in use as swimming is compulsory for Year Two to Year Five, and Year 7 to Year 9. The school also runs a compulsory life-saving programme for Year 7 students under the auspices of the Malaysian Chapter of the Royal Life-Saving Society.
All teaching spaces, including classrooms and labs, are fully air-conditioned and supported by the latest ICT tools to enhance the students' learning experience. The School maintains a fully-networked broadband campus which is host to more than 300 computers. At Sri KL, we have deliberately chosen not to bring laptop computers into the classroom. However, interactive whiteboards are used in all classrooms at both primary and secondary level. Both Primary and Secondary School have their own large libraries with internet access and a well-stocked bookshop caters for students' stationary and textbook requirements. Secondary School students enjoy the use of four cutting-edge science labs, three living skills labs, a sewing room and a cookery room.
It is our belief that artistic expression is essential to a child's development and our five-storey facilities block is equipped with a large dance studio, a music school and a fine arts centre. The fifth floor is occupied exclusively by a well-equipped gymnasium.
Primary and Secondary School students enjoy the use of their own canteens with a varied weekly menu and a choice of two dishes a day.
The School is proud of its 300 seated auditorium which showcases performances by the students as well as providing the venue for motivational talks, lectures and inter-school competitions.
Both Primary and Secondary Schools enjoy the use of a fully air-conditioned triple-height assembly hall with a capacity seating of 1,100 students and three badminton courts.
The School has parking facilities for 130 cars and a dedicated bus bay able to hold more than 28 school buses, whilst generous internal circulation allows parents to drop their children within the school compound. 24 hour security patrols the grounds and four in-house security personnel direct traffic into and out of the school.