The Star Online: 23 June 2015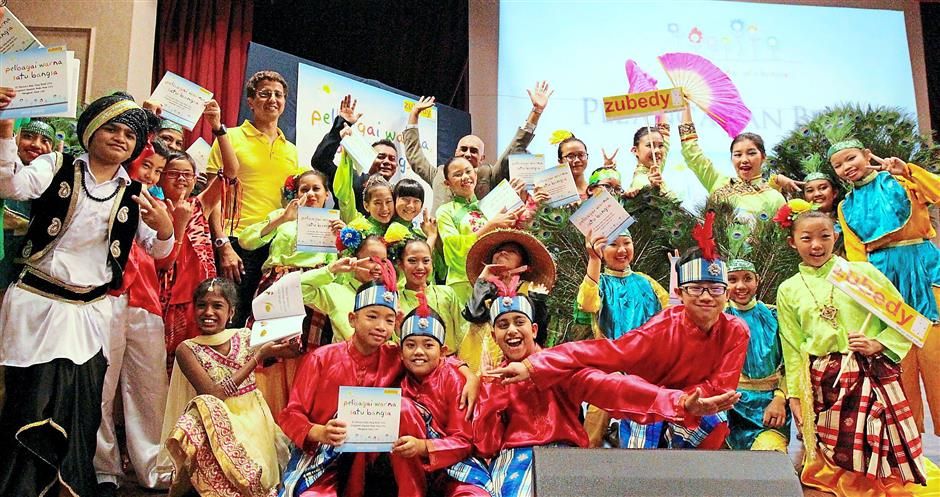 Unity's song: Anas (standing, in yellow) and Zainalabidin (on Anas' left) at the book launch of Many Colours, One Nation.
SUBANG: Not many hit songs are related to unity, but local singer Zainalabidin Mohamed and businessman Anas Zubedy hope to create one with the theme Pelbagai Warna, Satu Bangsa. (Many Colours, One Nation)
Launching a book titled Pelbagai Warna, Satu Bangsa, Zainalabidin said it should be owned by every Malaysian and would bring people together.
"I believe in the value this book carries and just as I use music to tell my love for nature (in his chart-topping number Hijau), I want to carry the spirit of this book through a melody," said Zainalabidin.
He added that music was a strong medium to influence youth and hence his collaboration with Anas, the author of the book.
Anas said the book was meant to create moments of unity among Malaysians.
"The goal is to achieve unity in diversity. What we have today is social cohesion and creating moments of unity will help us achieve national unity faster," said Anas, the managing director of Zubedy (M) Sdn Bhd.
The Malay version was launched so more Malaysians could read and understand the book, according to Anas.
"We hope every Malaysian will will own this book and share the content with their family, and more Malaysians understand the Malay language," said Anas.
In the book, there are blank pages for readers to write down thoughts which, according to Anas, would encourage people to remember their moments of unity with other races.
"For example, we ask readers to think of things we could share on the Chinese or other races in the book. This is to show more unity moments," he explained.
The book, which includes the stories of the difference races in Malaysia such as Chinese, Malay, Indian, Serani, Iban, Kadazan and Orang Asli is sold at major bookstores nationwide.
The Malay version costs RM26.90 and English version RM27.90.