The Star : Sunday, 13 March 2016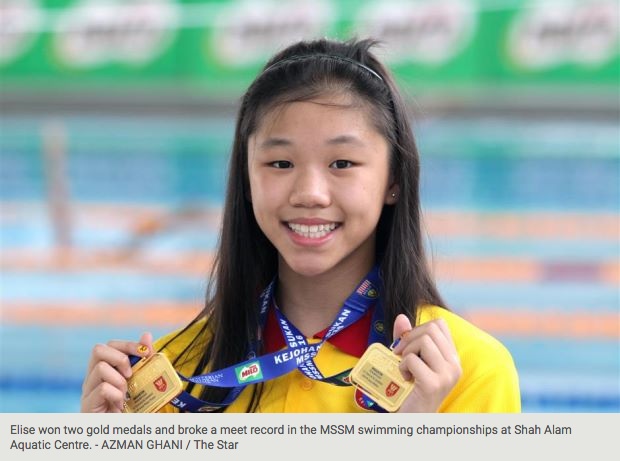 SHAH ALAM: Elise Wong splashed to a perfect debut in the MSSM swimming championships with two gold medals and a meet record at the Shah Alam Aquatic Centre.
The 12-year-old student of Sri Kuala Lumpur posted 30.94 to smash the 10-year-old record of 31.09 held by former national swimmer Hii Siew Siew in the girls' 12 and under 50m butterfly.
Team-mate Lim Shun Qi clocked 31.01 to also dip under Siew Siew's record but settled for silver while bronze went to Kuala Lumpur's Ng Zi Syuen, who posted 32.57.
The lanky Elise went on to claim her second gold medal for Selangor after finishing the 200m freestyle in 2:22.69.
Elise turned out to be the only record breaker on the opening day.
"It's not my fastest time as I have a personal best of 30.30. But I fell pretty good. The competitors here are of the same standard," said Elise, who looks up to five-time world champion Hosszu Katinka, who is known as Hungary's "Iron Lady" in the pool.
"She is good and can swim in different events. She always finishes in the top three in the events she enters. I like the way she swims the butterfly," said Elise, who aspires to qualify for the Asian Games in the future.
Hosts Selangor enjoyed a roaring day at the pool as they bagged 11 out of the 25 gold medals at stake.
Other double winners for Selangor were Darren Lew (boys' 12 and under 100m backstroke and 200m freestyle), Sebastian Soon (boys' 13-15 100m backstroke and 200m freestyle), Jordan Yip (boys' 16-18 100m backstroke and 200m freestyle) and Rosalind Pang (girls' Open 800m freestyle and 13-15 200m freestyle).
Tan Tyng also bagged a double for Sarawak in the girls' 16-18 50m breaststroke and 200m freestyle.