The Star : Wednesday, 16 March 2016
SHAH ALAM: It's 10 golds – and counting – for Selangor swimmer Jordan Yip at the National Schools Sports Council (MSSM).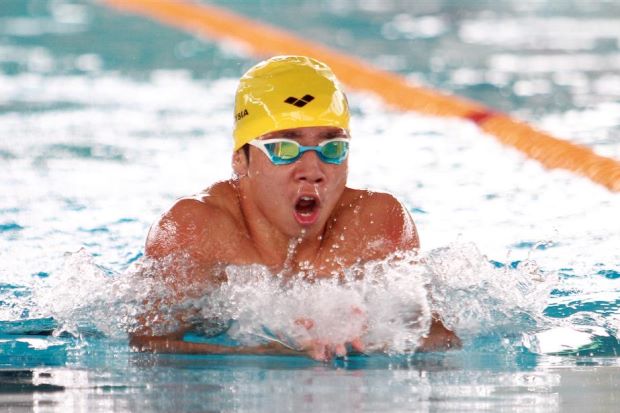 The 17-year-old has bagged three more gold medals to take his tally to an awesome 10.
He was simply unstoppable at the Shah Alam Aquatic Centre here on Wednesday.
First, he romped home in the 50m freestyle in 24.71. Then, just like his idol Kosuke Hagino of Japan, Jordan showed his versatility by winning the 400m Open individual medley (IM) in record fashion – clocking 4:43.51 to erase the 4:44.73 set by Tia'a Faang Der of Johor in 2013.
Hagino won the 400m IM bronze medal at the London Olympics in 2012 and is one of only two Asians to have been named Swimmer of the Year.
Jordan's third gold came when he swam the butterfly leg to help his Selangor team-mates Khoo Yee Shen, Ng Yi Hao and Ooi Joo Vern triumph in the 4x100m medley in 4:05.84.
Jordan had earlier won golds in the 100m and 200m freestyle; 50m, 100m and 200m backstroke; 100m butterfly; and 200m individual medley.
He also claimed a silver on Wednesday – clocking 2:27.26 to finish behind team-mate Yo Hao (2:26.00) in the 200m breaststroke.
It was his second silver in the meet, having finished second in the 50m butterfly on Sunday.
But he's not done yet.
He has three more races on Thursday – 400m freestyle, 200m butterfly and 4x100m freestyle relay.
"I've won medals in all the events I entered for … I will try to win three more on the final day tomorrow," he said.
"I'm feeling good … I'm happy to have clocked a personal best in the 400m individual medley.
"It was unexpected … to break Faang Der's meet record shows I'm on the right track."
Jordan will switch his focus to the Malaysia Games (Sukma) in Kuching where he hopes to make a golden debut in the 200m and 400m individual medley events.
The Selangor quartet of Yasmin Batrisyia, Lim Shun Qi, Elise Wong and Amanda Sofea were the other record breakers on Wednesday.
They clocked 2:14.70 en route to winning the girls' 12 and under 4x50m medley relay and erase the previous mark of 2:15.76, which they set last year.
Selangor are confirmed as the overall champions for aquatics with one day to go with a haul of 47-31-15. Kuala Lumpur (13-15-19) are second and Malacca (5-9-12) third.